Long Service Recognition Award
07/10/2017
Andy Aitken was awarded with the County Certificate of Recognition Award at the Northants ASA County Short Course Sprints Championships held at Rugby's Queen's Diamond Jubilee Centre in September, by the Northants ASA President Stephen Ward.
Andy, an ex-swimmer for Rushden Swimming Club, first began swimming in 1968 and although his swimming career finished in 1974 he has always held a connection and a passion towards the swimming world. In 2006 Andy started out helping at Club Championships and qualified as a Time Keeper, he continued to assist the club voluntarily; Officiating at galas and competitions, and encouraged as many parent volunteers as possible to also assist with Officiating.
Andy was one of Rushden Swimming Club's first ever Officials, he went on to train more voluntary recruits, 2 – 3 new Judges per year; sharing his experience and knowledge and giving up his own time to provide inductions and tuition for courses. During this time Andy's two children also swam with RSC and Andy would assist Judging at local, County, Regional and National meets where his daughter and son competed.
Now grownup and no longer swimming, Andy's children have departed but Andy has continued in his own development to become a well recognised County, Regional and National Referee. Over the years Andy has mentored and coached over 30 trainees from Judge 1 through to Starters and Referees, providing Rushden Swimming Club with the largest number of Officials in the County.
This has enabled RSC to run their own Licensed Club Championships at Level 4 for the second year running and next year RSC will be hosting their very own Licensed Sprint Meet at a Level 3 for the first time in history.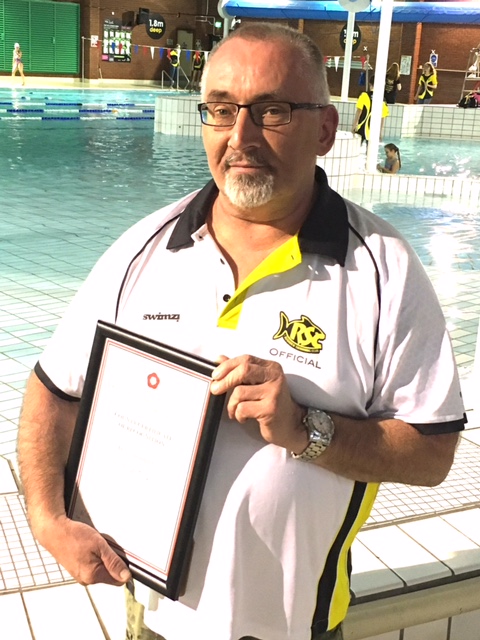 ---